EVCS, leading company in the electric automotive sector, started a project with puntorojo to create an effective SEO strategy and significantly increase their visibility in search engines and attract new customers.
Studies have shown that organic search generates 53.3% more web traffic compared to other channels such as paid advertising, email, or referrals (Bright Edge). So, by creating an SEO plan to improve search engine rankings, sales opportunities can be increased.
Considerations when planning the strategy for EVCS
An SEO strategy designed for the automotive sector includes practices that improve visibility in search results relevant to the market. Analyzing aspects related to the industry is very important in order to enhance the strategy, such as the interests and behavior of the target customer.
Every action plan should include:
Keyword research and investigation into terms of interest for the audience.

Content optimization to make it relevant to the user.

Links from automotive industry websites to increase website authority and improve search ranking.

Improvement of user experience on the company's website to encourage further browsing and action.

The goal of the SEO strategy is to increase the quantity and quality of organic traffic to the website. 
The automobile sector in the United States is highly competitive, and the implementation of an effective SEO strategy can make a significant difference for companies in the industry. Even Google has detected that in the mentioned country, the terms "electric cars" and "electric car chargers" in search engines have increased their relevance by 71% and 140%, respectively, in recent years.
To start planning the strategy in detail, the team conducted a website audit. After several conversations held by the teams, they managed to identify the objectives and improvement opportunities.
Finally, the team implemented an action plan based on the needs and preferences of the users, while also considering relevant keywords and search trends in the market. The focus was 100% on achieving that EVCS's website attracts more organic traffic and thus potential customers.
What were the results?
Thanks to the implemented practices, organic user traffic increased by over 230% in just 5 months. EVCS sessions also increased by 208% in the organic channel alone.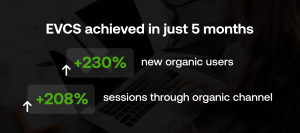 Working together was essential to achieving this success. Constant updates were provided every week, taking into account all deliverables and what still needed to be done.
What was EVCS's experience with Punto Rojo?
"One of my favorite parts of working with Punto Rojo is the way they communicate with us. It has simply been an awesome experience working on a team like this." Justin Arita, Digital Growth Manager at EVCS.
Conclusion
In summary, the strong strategy implemented by EVCS in conjunction with Punto Rojo has led to a significant increase in visibility on search engines and attracted new organic customers. With a focus on the user and a deep understanding of market trends and preferences, EVCS has achieved great success. This case demonstrates the importance of working with a team of SEO experts to achieve optimal results.
I want to boost my results!